TRAVERSING THE GREAT SOUTHWEST CHIEF ROUTE
BY JACK M. TURNER
My son John and I traveled from Los Angeles to Chicago on February 13-15, 2002 aboard the Southwest Chief as part of a 9,000 mile Amtrak trip around the United States. Our combined rail travels have totaled approximately 300,000 miles and have taken us on all but a couple of small segments of the Amtrak and VIA Rail Canada systems and have included travels on the Alaska Railroad, the Ontario Northland, and on numerous short lines and tourist trains. This was John's first trip on the Southwest Chief and my second, though back in 1976, when I made my previous trip, the train was named the Southwest Limited. Our February 2002 trip on the Southwest Chief would surely rank among our top ten train journeys of all time when we consider various factors: scenery, comfort of the train equipment, smoothness of the tracks, meals in the dining car, crew attentiveness, and timekeeping.
The train station in Los Angeles is a classic and is featured in many Hollywood movies and often used as a backdrop in television shows filmed in LA. Just a block from the station is Olvera Street, with its interesting Mexican markets, shops, and restaurants. Back at the station, we made use of the redcap service which I suggest
to anyone with heavy luggage or an inability to walk up a steep ramp to the train platform.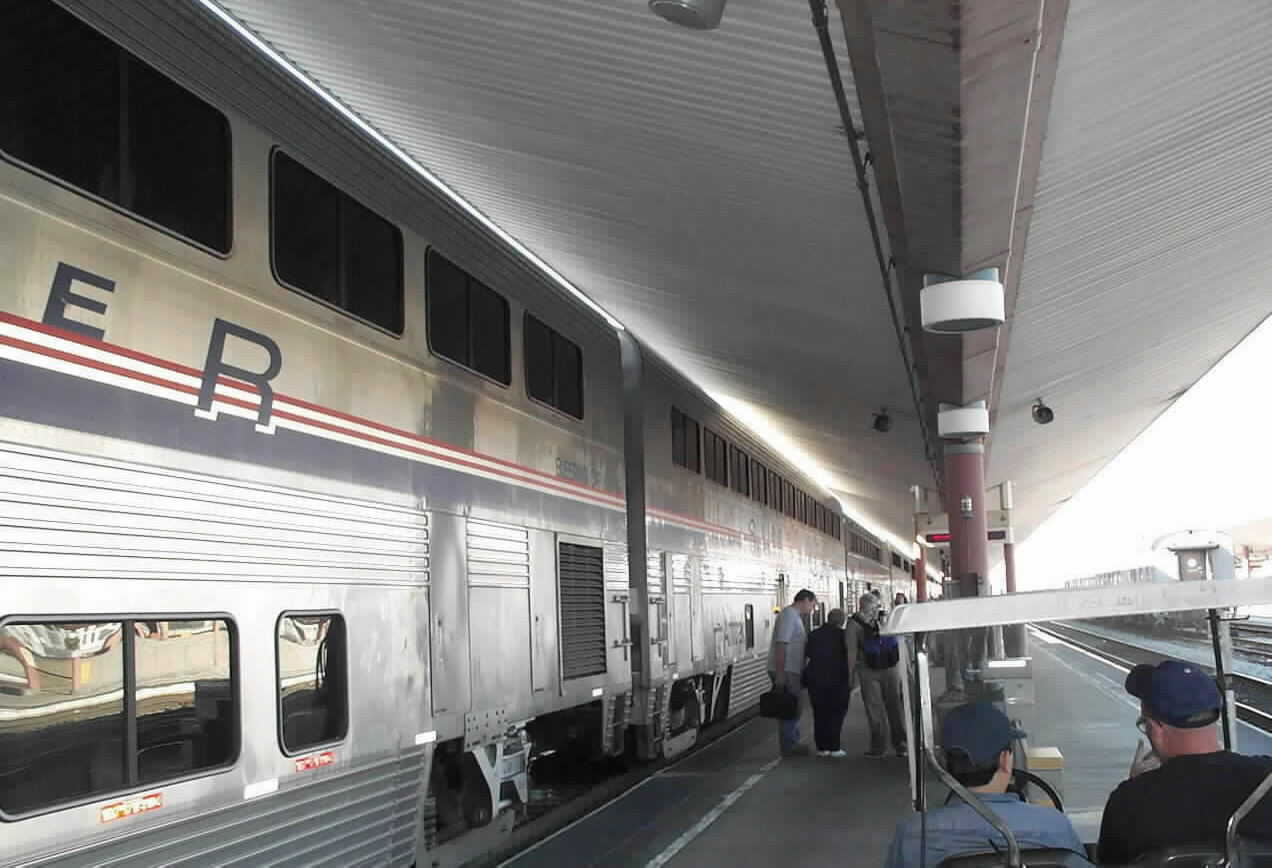 Boarding the Southwest Chief was a special moment in our coast-to-coast train trip as we were following in the footsteps of many movie stars and famous personalities who have traveled on the old Santa Fe route to and from Chicago. In pre-Amtrak days Santa Fe's Super Chief was often called The Train of the Stars. As we stepped aboard our sleeping car, our car attendant Carol pleasantly greeted us and made us feel at home. Soon we were welcomed by Bob Stone, the crew chief on this particular trip. Bob is the webmaster of this website and is one of Amtrak's best ambassadors as he genuinely enjoys his work. In fact, my wife and I rode with Bob on another Amtrak train back in 1983 and we noted then that he was a special person.
Dinner was served shortly after we left LA and throughout the trip we found the meals to be deliciously prepared, attractively presented, and among the best we have had during all of our rail travels. The Southwest Chief menu offers more selections of entrees, desserts, etc. than one would find on most trains these days. Soft jazz was playing in the background while we dined and fresh carnations graced each table. These small touches helped elevate the Southwest Chief above many other contemporary trains.
Before we turned in for the night, we watched our train tackle Cajon Pass, one of the most famous railway mountain passes in the USA. The climb up Cajon begins shortly after departing San Bernandino eastbound and, unfortunately, was in darkness since we were traveling in the winter. Nevertheless, the climb was impressive as the railway makes a steady climb upgrade to the summit. There are numerous excellent vantage points along the Cajon line to watch trains as this is one of the west's busiest stretches of rail and a daytime visit by automobile promises to be memorable for any railfan.
We awoke as the Southwest Chief paused at Williams Jct, Arizona, the connecting point for the Grand Canyon Railway. We rode that line's steam powered train right to the Grand Canyon several years ago and I heartily recommend the trip. For people who prefer to drive to the Grand Canyon, the best place to leave the Southwest Chief is at the next stop, Flagstaff, as there are ample rental car agencies located there. Just north of Flagstaff are Sunset Crater Volcano and Wupatki National Monuments which can easily be incorporated into a visit to the Grand Canyon. Farther north are several outstanding national parks located in Utah including Zion, Bryce Canyon, Capitol Reef, Canyonlands, and Arches. South of Flagstaff is the beautiful red rocks region around Sedona as well as the Verde River Canyon Railroad which offers scheduled train trips through a very scenic region north of Clarkdale.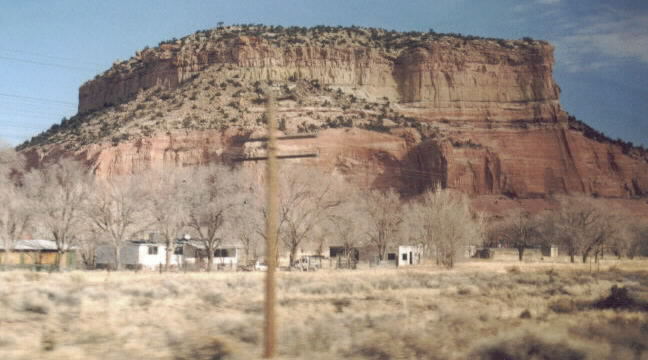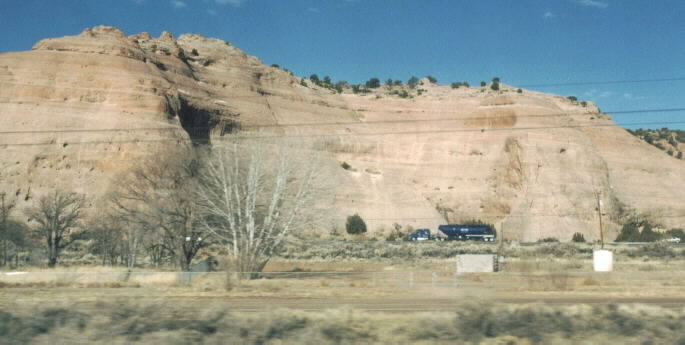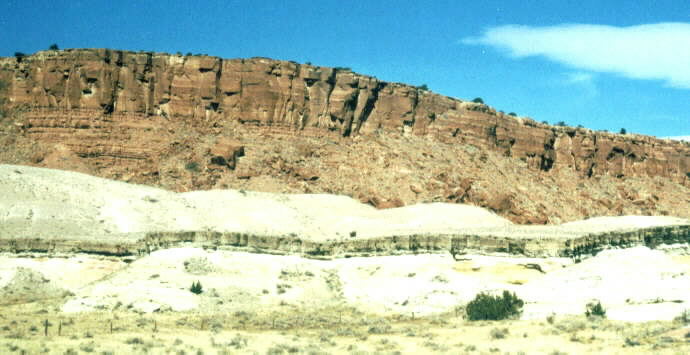 Much of the Southwest Chief route parallels famous US 66, which inspired a popular television show that aired the early 1960s. Today Route 66 exists only in small stretches (mostly main streets through towns such as Flagstaff) as interstate highways took away most of its traffic. Still, many art deco style motels, restaurants, and wayside tourist attractions still exist along the way and may be viewed from the train.


Between Gallup, New Mexico and Albuquerque we enjoyed the commentary of Gerald Pinto, a Navajo guide who often rides the Southwest Chief and provides background on the region's legends, cultures, and scenic highlights. This commentary was provided in the sightseer lounge car, which offered ample seating and large windows for viewing the passing sights. Guests who preferred not to take part in this service could remain in their coaches or sleeping cars but they missed an interesting and educational opportunity.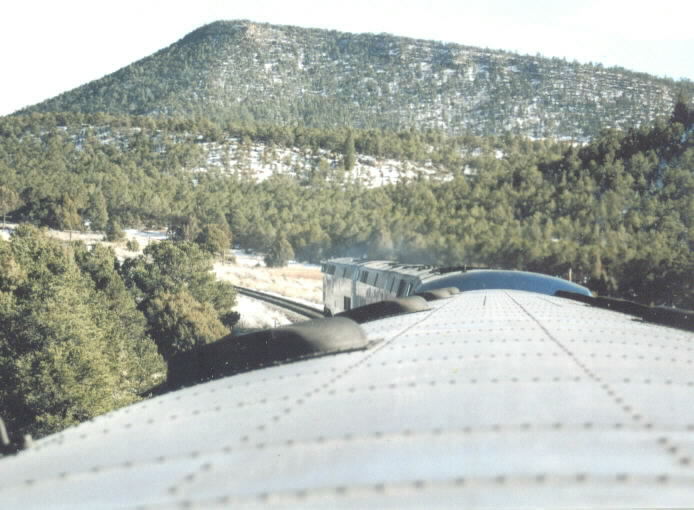 The trip across New Mexico is one of North America's most beautiful stretches visible from a passenger train as it provides views of red cliffs, plateaus, mesas, and buttes; ancient lava fields; and Indian reservations at various points. Snow capped Mt. Taylor (elev. 11,301 ft) also could be seen clearly as we approached Grants. At Albuquerque we had time to stroll along the platform while the train was serviced and had a chance to admire and purchase jewelry made by Native Americans who keep up a century old tradition of meeting the train and offering handcrafts for sale. Eating lunch in the diner after departing Albuquerque allowed us to enjoy both Gerald Pinto's tour commentary and the fresh air of Albuquerque.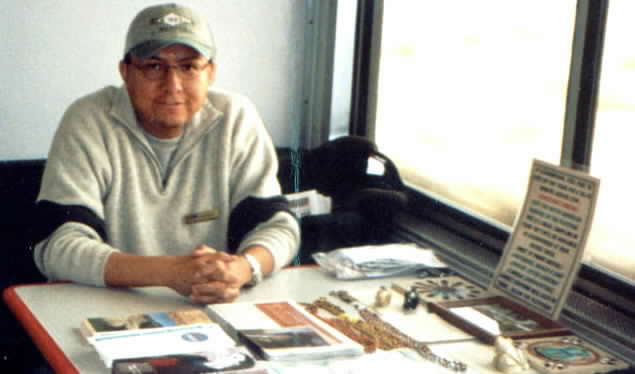 The afternoon trek across eastern New Mexico provided us with many more scenic highlights including narrow Apache Canyon just east of Lamy, Glorieta Pass where the railway climbs to approximately 7,000 ft elevation, a fantastic double "S" curve where the front of the train is heading in the opposite direction from the rear of the train, Starvation Peak, Shoemaker Canyon, and Wagon Mound Mountain. Another highlight that can be viewed during this stretch of the trip is the series of 22 semaphore signals still in use between the "S" curve and Las Vegas plus another series of semaphores berween Shoemaker Canyon and Wagon Mound. Few of these classic old semaphores remain in use in North America as one by one the blades have been replaced by more modern signals. Just beyond Raton, NM, the Southwest Chief ascends Raton Pass, slips through a half-mile long tunnel, and emerges into Colorado. Since our trip came on a short winter day, twilight had set in by the time we reached Raton Pass, however, we still were able to admire the sight of a huge herd of elk which charged down a cliff and crossed the tracks just ahead of our train. Please note that this should never be attempted in your automobile as it may be the last thing you ever do! The trip over Raton Pass is especially impressive heading westbound as the railroad makes a lengthy, steep climb to the summit. In the wintertime, this means sacrificing the scenery west of Albuquerque and necessitates a very early wakeup to view Cajon Pass. The route across Raton Pass remains endangered by low freight traffic volume as most BNSF RY freights travel via the low grade Amarillo, TX line.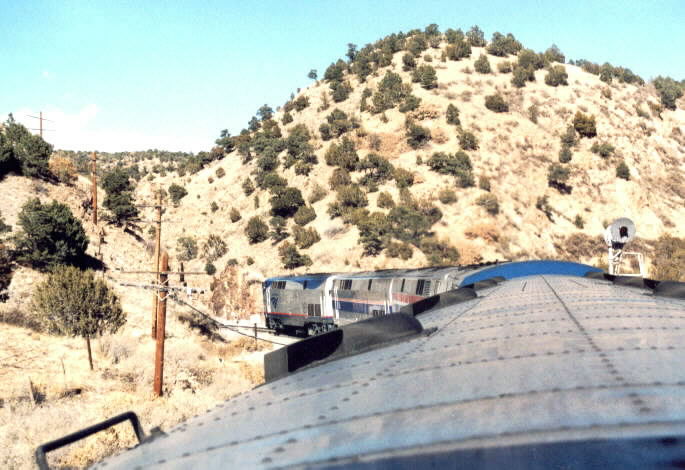 The Southwest Chief passed through southern Colorado and much of Kansas while we slept and we awoke as we approached Kansas City, Missouri. Beyond Kansas City we viewed the wide crossing of the Missouri River which was the path taken by Lewis & Clark's expedition to explore the west. After a short jaunt across the corner of Iowa, our train followed the mighty Mississippi River into Ft. Madison then bridged the river into Illinois. This is one of five points in the Amtrak system where you can cross the Mississippi by passenger train.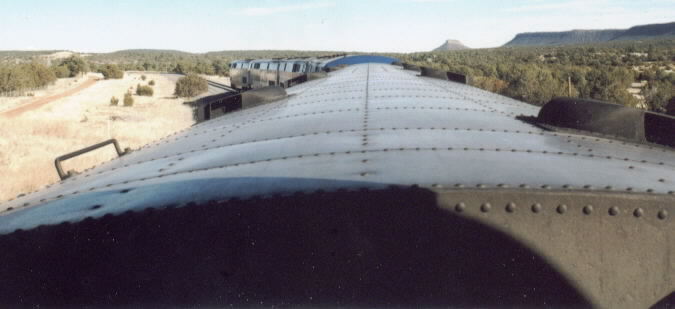 As we edged closer to Chicago, dormant cornfields gave way to suburbs and soon we entered a busy stretch of the BNSF Railway which hosts six daily Amtrak trains, dozens of METRA commuter trains, and countless freights. Our trip aboard the Southwest Chief came to a close at 4:20pm (over 15 minutes early) as we detrained at bustling Chicago Union Station. There are many things to do in the Windy City and first time visitors should consider a stopover to partake of some of Chicago's attractions. For persons continuing eastward, as we were, there are connecting trains to New York, Boston, Philadelphia, Washington, New Orleans, Detroit, and points in between that do not require an overnight stay in Chicago.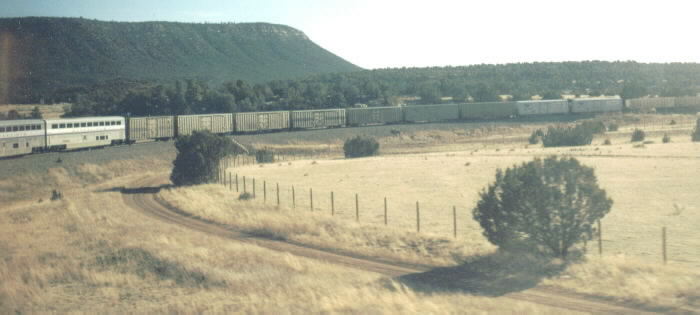 A trip on the Southwest Chief is sure to please any rail traveler. For persons making a circle trip aboard Amtrak, I suggest the following routings: take the westbound California Zephyr through the Rocky Mountains to Sacramento or Emeryville, CA, then the Coast Starlight down the Pacific coast to LA, and the Southwest Chief eastward back to Chicago. Another extremely scenic routing would be the westbound Southwest Chief to LA, the Coast Starlight north to Portland or Seattle, and the Empire Builder east through Glacier Park to Chicago. A third excellent choice would combine the Southwest Chief and Coast Starlight with VIA Rail Canada's Canadian between Vancouver and Toronto then connecting back to either Chicago or New York on Amtrak. This option is equally scenic in either direction, however, the first two itineraries provide the best mountain viewing in the directions I have detailed above. In either direction, connections between the Southwest Chief and Coast Starlight are either not possible or are not guaranteed. Nearby hotels are available in LA and a scenic side trip with an overnight in San Diego is another ideal way to enhance your vacation.
I hope you will enjoy the photographs from our trip aboard the Southwest Chief. Please note that forward shots of the train are not normally possible as the train regularly carries a transition crew sleeper. On our trip a standard Superliner sleeper was substituting thus we were able to take pictures through the window in its end door. The crew sleeper is normally not accessible to passengers, however, arrangements were made to allow this photo tour for readers of my Rail Travel News article and for visitors to the Crewten website. Further details of our rail trips can be found in Rail Travel News. For subscription information, visit www.railtravelnews.com.
I wish to thank Amtrak's Bob Stone and the Southwest Chief's outstanding on- board service crew for their hard work and hospitality.
It was a pleasure meeting Jack Turner and his son John Turner aboard The Southwest Chief. (Bob)